Practices are held at the 
World's Fair Marina
 right next door to Mets Stadium. Practices are on 
Saturdays from 11:45am-12:45pm
Address: 1 Marina Rd, Flushing, NY 11368
Directions
: We are just a short walk right down 126th St. to the water from the 7 train at the "Mets Stadium – Willets Point" stop and just a short walk from the Northern Blvd bus stop also at 126th street.
Directions by Subway:
Directions from the 7 train:
Take 7 train to Mets-Willets Point (2nd to last stop on 7 train):
Walk through Citi Field's Parking lot heading north
Exit the parking lot and cross the street
Walk through the underpass
Continue walking and cross the street towards the water and meeting at the
White Dome of the Marina.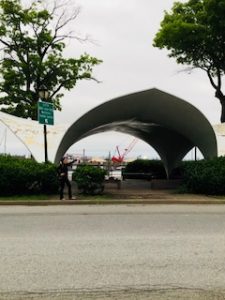 For practices, please park in the Main Parking Lot of the World's Fair Marina. The Main Parking lot is the large parking lot on the water-side of the marina, which you have to drive thru to get to the Half Moon restaurant. You do not need a parking pass to park there, yay!