Please know about our directors, Our Board of Directors are dedicated people who are always looking to assist you every moment needed.
Leah Salmorin​
Breast Cancer Survivor, President/Founder
Leah's journey as a breast cancer survivor..
is a primary motivator in her life. As part of her role as President/Founder, she frequently reaches out to other charitable organizations, government, and support groups to find ways of pooling resources and collaborating on projects. She is a lector at St. Patrick's Cathedral and St. Joan of Arc Church, former patient navigator for The American Cancer Society, and volunteers at Elmhurst Hospital.

She hails from the Philippines and from a medical family. She has a Bachelor's degree in Accounting and was awarded "outstanding employee" and "top financial consultant" at the Philippine National Bank and Marketing by Prulife-UK, respectively. An honor and scholar student, she was a member of various clubs: Toastmaster Club, Lions Club, and Kiwanis Club. Other notable contributions are: SHARE hotline volunteer (2006), NY State Breast Cancer Network Advocate -Albany (2007), Creative Center Visual Diaries Exhibition participant at the University Settlement (2009), National Breast Cancer Coalition Project Lead Graduate – Boston (2010) and Susan G. Komen Pink Honor Roll (2013). Her other involvements include: Cancer Care, Gilda's, Stupid Cancer, Young Survival Coalition, Livestrong, Casting for Recovery, Libby Ross Foundation, SASS Foundation, Stowe Weekend of Hope, American Cancer Society, You Can Thrive, United Breast Cancer Foundation, Moving for Life, Strength for Life, Speed Rack, Earth Celebrations -Ecological City and Social change through the Arts and Pink Glove Dance.
Mrs. Taylor is a Board Member at..
Tender Care Human Services, NYC Licensed Notary Public, Joint Labor/Management Committee Member at Elmhurst Hospital.Nancy is a strong and motivated individual with a notable and successful career with NYC Health +Hospitals in Queens New York. Marie has worked as a Coordinating Manager in the Department of Social Work Services at Elmhurst Hospital since 1982.

Marie served as a mentor at Inwood House for over a decade mentoring young adults to find a path leading to independent living. Inwood House is a Maternity Residence, on the Upper Eastside of Manhattan, offering a haven for pregnant teens and mothers in foster care who have nowhere else to turn. She established herself as a self-starter and a leader through her volunteer experiences. She also serves as a team captain at her place of employment raising money each year to support breast cancer research. She attended and graduated from Drake Business School where she engaged in the course work of administrative leadership and business law; more recently, she attended the School of Professional Studies at CUNY studying a range of key health issues that confront and impact on the health of urban residents. Marie loves being with her family, especially spending time with her grandchildren. She also enjoys fishing, working out at the gym and losing herself in a good book. She also hails from Haiti.
Nancy Taylor
Vice- President
Carleen Moscati
Breast Cancer Survivor, Secretary
Carleen Moscati, Breast Cancer Survivor..
Secretary & Director of Holistic Lifestyle Programming. Carleen Moscati is a Certified Life Purpose and Holistic Life Coach, Spiritual Guide and Reiki Master.

After a career in the legal field and a tough battle with Breast Cancer, she founded the Legacy Lifetime Community where she now dedicates her time to helping others to overcome Major Life Obstacles [M-LOs], discover their truth, Live Their Legacy, and Become Their Greatest Self.Carleen believes wholeheartedly in the power of the human spirit and it's ability to actualize it's full potential. She utilized principles of Holism, Life Balance and Conscious Connection to help empower and guide Survivors on their journey to wellness and recovery.
Joel Quirk, CPA, is the audit partner at..
Ernest D. Loewenwarter & Co. LLP. He is responsible for overseeing the company's various audit, review, and compilation engagements as well as administering the firm's peer review program.Mr. Quirk's clientele includes the firm's roster of investment counselors and investment companies as well as wholesale distributors, high net worth individuals and not-for-profit companies. Mr. Quirk's responsibilities within the firm include quality review of attest engagements, assigning and supervising personnel and reviewing all phases of engagements.

Mr. Quirk is a member of the American Institute of Certified Public Accountants and the New York State Society of Certified Public Accountants. Mr. Quirk has been with the firm since 1992 and has more than thirty-five years of experience in public accounting. Mr. Quirk's range of experience includes but is not limited to distribution, manufacturing, real estate, financial services, publishing, entertainment, and a variety of non-profit organizations. Mr. Quirk received a B.S. in accounting from the State University of New York at Binghamton in 1980.
Maria Assis
Breast Cancer Survivor, Event Coordinator
Maria Assis is a veteran dancer, Zumba and..
fitness instructor who performs in parades, schools and hospital events. She was born and raised in Brazil. She actively participates in Dance for the Cure and Paddle for the Cure through the supervision of Susan G. Komen fundraising events in New York City.

Being a two-year breast cancer survivor, she continues to grow strong and wanted to give back to the community not only as a performer but also as the Event Coordinator for Paddle for the Cure in New York City.
"Annie Urag is currently working at NYC
Health + Hospitals/Elmhurst as a level 2 dietitian. Annie is active in her parish being a lector for 8 years now and she is also a member at large of the Lourdes organization. She graduated from the University of the East in Manila, Philippines with a Bachelor's degree in Food and Nutrition and she also worked in Macy's for a while when she first arrived in New York.

As a survivor herself, she knows how her patients feel. Annie believes that family has taught her that God is your ultimate savior and that with a healthy lifestyle, one will be able to survive".
Annie Urag
Breast Cancer Survivor, Health and Wellness Director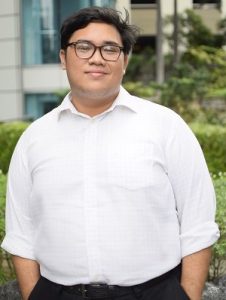 Leynard Alcoran
Director of Social Media
Leynard Alcoran is a believer..
in the strength of communities and collective action. He graduated from the University of the Philippines - Visayas with a degree in Business Administration Major in Marketing in 2019. In 2017, he was awarded as one of Markprof's Top 25 Marketing and Management Students/Trainees of the Philippines. He is also a retired varsity debater, a gamer, and an avid cinephile. Leynard is openly gay and is a proud member of the LGBT+ community.
Influencing the way people, organizations, and movements for healthy lifestyle!